Our residential window films provide many advantages!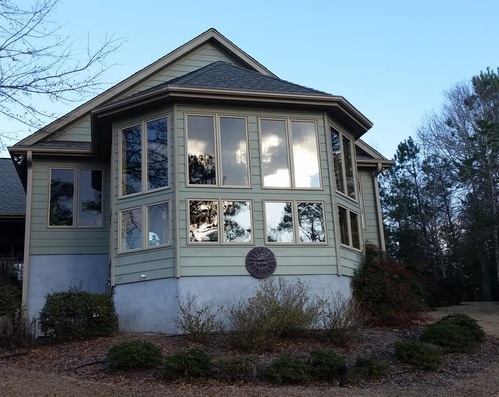 When you work with us at Glass Tinting by SPF, you will find that we have a variety of window film products to best suit your needs. While you might think of window tinting as something that is only for vehicles,
residential window film
is a great solution to many problems that homeowners face on a regular basis in
Jacksonville, North Carolina
. Sun control window films will reflect heat away from your home while also blocking harmful UV rays that cause damage to floors, furniture, and other expensive home furnishings.
Protection is provided in different ways with our residential window films. In addition to protection from the sun, our security window films will transform your windows into a source of strength and protect your home and family from break- ins and severe weather. These films are designed to hold glass together during severe weather or "smash and grab" crimes. They help to seal out water, the primary cause of property damage, and they are constructed to withstand day-to-day abuse. Our safety films are available in clear or in a tinted sun control option.
Randy and staff are SUPER nice and accommodating!
"Randy and Jonathan came today and installed hurricane film on our home windows. They both are SUPER nice, did an amazing job, cleaned up everything like they were never here, were done quickly, and did everything at an AMAZING price! We are super happy. Randy and staff are SUPER nice and accommodating! 2 cars done here and they look great! Highly recommend!"
★★★★★ Fran S.
Residential Window Film
Enjoy the view without the harsh effects of the sun with our residential window film.
Commercial Window Film
Commercial window film allows for safety and security for your property.
Car Window Tinting
Professionally installed window tint can make your car more valuable and improve its appearance.
We can recommend the best window tinting product for your needs.
In summation, if you are ready to
→ Keep your home cooler
→ Minimize solar hot spots and reduce glare
→ Conserve energy and save money
→ Reduce up to 99.99% of damaging UV Rays
→ Enjoy protection from severe weather, water damage, and break-ins
Then please give us a call today! We offer multiple lines of solar and security films backed by a manufacturer's warranty.  Ask us what we can do to improve your view!
FAQs About Residential Window Film
Our team at Glass Tinting by SPF offers the residential window film you need to keep your home comfortable. If you have questions about this product, keep reading to get the answers you need.
Will residential window film block light?
No, our residential window films will not diminish the amount of natural light in your home. The film is designed to let visible light pass through, while blocking out damaging UV rays. In addition, we offer a range of different films, so you can select one that provides your desired level of illumination—for example, if you have trouble seeing the computer screen in your home office due to glare from the sun, you can choose a film that will provide more shade.
What are the benefits of residential window film?
As we stated above, our window films are designed to offer several benefits, such as to block out UV rays. Our films can help prevent your furniture or the art on your walls from fading, as well as reduce uncomfortable glare. In addition, keeping out UV rays will also help keep your home cooler and more comfortable and will help you save money on your monthly cooling bills as well.
Can I install my own residential window film?
While it is technically possible to install window film yourself, we recommend hiring trained experts to do it in order to get the best results. Our team has extensive experience in installing window film, and we will make sure your film does not leave any visible bubbles or creases. We'll also handle all the mess and cleanup involved.
---
At Glass Tinting by SPF, we offer residential window film to those in Hampstead, Wilmington, Wrightsville Beach, Carolina Beach, Topsail Beach, North Topsail Beach, Surf City, Holly Ridge, Sneads Ferry, and Jacksonville, North Carolina.
Why Choose Glass Tinting by SPF?
Glass Tinting by SPF is Southeastern North Carolina's leading window film dealer, so you can count on us to deliver quality products with the best methods. We have factory-trained installers with over 23 years of experience, so you can expect the highest level of professionalism, excellent customer service, a superior product, and a lifetime warranty.
See what some of our satisfied clients are saying about our residential window film and other services.
Installing window film at your home has many benefits
Similar Services We Offer: